Modern Weddings

Chic destination wedding celebrating the modern power couple! Our sophisticated and subtle wedding style will exceed the expectations of even your most valued guests while always keeping you as the center of attention.

Featured Destinations:

Beachfront Elegance

The perfect beach destination weddings are hosted at All-Inclusive by Marriott Bonvoy® resorts. Find yourself in exotic island retreats with your soon-to-be. Say your vows with the sound of waves as guests lay witness in gorgeous indoor and outdoor venues.

Featured Destinations:

Romantic Storybook

The next chapter of your love story begins with us. Let our expert wedding planners create the perfect atmosphere in your tropical paradise with ambient music from hand-picked local bands, romantic wedding décor inspirations, and more.

Featured Destinations:

Garden Wedding

Picture-perfect weddings start at All-Inclusive by Marriott Bonvoy®. Celebrate your big day on manicured lawns with personalized dining and activities for the entire family. Enjoy romantic ceremonies against the laid-back tropical landscape.

Featured Destinations:

Rustic

Make your destination wedding feel like home with our rustic theme. Experience the same warmth and hospitality with personalized services tailored to your occasion. Enjoy your ceremony and reception in unique indoor and outdoor spaces.

Featured Destinations:

Classic

Our classic wedding venue styles serve the old-school romantics. Enjoy a traditional ceremony with friends and family and a grand reception. Add nature to your tropical paradise and fulfill your dream destination wedding fantasies.

Featured Destinations:
Be Inspired by Our Wedding Honeymoon Ideas
South Asian Weddings
A Celebration of Love, Culture, and Adventure
Plan a wedding as unique as you are. Discover our South Asian wedding planning services. Hold firm to your roots while enjoying the multi-day functions with lights, color, music, and food. Host any guest list easily at our luxury all-inclusive wedding venues with lodging facilities.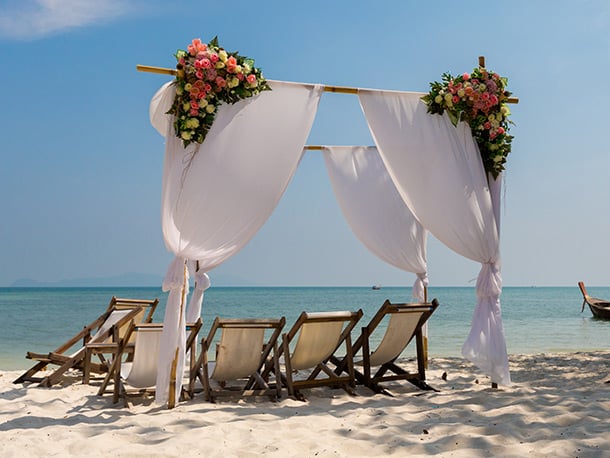 LGBTQIA+ Weddings
Pride Forever, Together
Celebrate the spirit of inclusion at our full-service wedding venues. Let us know what you envision for your big day, and we will tailor the services to your unique choices. You, your beloved, and our pristine destinations are a perfect match!